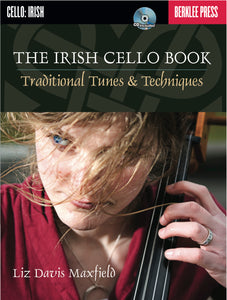 Each book purchase comes with a complimentary Skype lesson. Contact Liz for details. 
Learn to play traditional Irish melodies on the cello.
With technical lessons and a tune book of over 100 tunes, this book covers traditional articulations, concepts, and practices of Irish fiddle music, adapted to the cello. The recording features demonstration and play-along tracks by world-class Irish musicians including Liz Carroll, Matt Crannitch, John Carty, and others.
You will learn to:
Play Irish melodies using traditional ornamentation, bowing, and performance nuances
Recognize distinguishing features of song forms, such as jigs, reels, hornpipes, highlands, airs, and others, as well as regional styles such as Donnegal, Clare, Sliabh Luachra, and others
Adapt melodies to the cello, adjusting them for register and making them easier to play
Play in a traditional Irish ensembles and sessions, understanding the customs and rules of participation
Develop your own unique interpretations of these tunes, with your personal expressive preferences but remaining true to the overall tradition
The "Tune Book" section includes over one hundred tunes transcribed for cello, including: Butterfly, Connachtman's Rambles, Cooley's, Drowsy Maggie, Earl's Chair, Fig for a Kiss, Harvest Home, John Ryan's, Kesh Jig, Maid Behind the Bar, Morrison's Jig, O'Carolan's Welcome, Off to California, Out on the Ocean, Rights of Man, Road to Lisdoon Varne, Rolling Waves, Si Bheag, Si Mhor, St. Anne's Reel, and Swallow Tail.