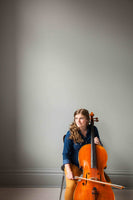 About Liz
Liz is a restless creative with a passion for good design, sound logic, and twisty tunes.
After completing her undergrad in Folk Cello at Berklee College of Music, she spent a year as an Fulbright Scholar studying Irish traditional music at University of Limerick. Upon the completion of her MA, she returned to the states and wrote The Irish Cello Book, published by Hal Leonard. She has recorded a dozen albums, performed throughout the United States and Europe, taught workshops and skype lessons to cellists from around the world, and composed a small catalog of non-classical cello repertoire.
Liz's software engineering journey started at DevMountain bootcamp almost a decade ago. Since then, she has found a passion for collaborative, creative development and has enjoyed mentoring, leading, and writing solid code. She is currently a Sr. Software Engineer at Fidelity Investments. 
When she isn't coding or composing, she enjoys rock climbing and adventuring with her family.
Music Projects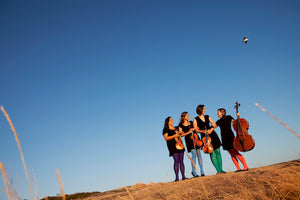 Folk Arts Quartet
FAQ fused the raw, folksy sounds of a string band with the sophistication and grace of a classical string quartet to produce a new genre they dubbed "ChamberGrass."
buy the album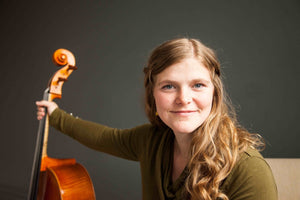 New Tune a Day
Started in collaboration with fiddler Katie Henderson (Ampersand), NTaD is a youtube project that invites Liz to post a video of a newly learned or written tune every day.
watch the videos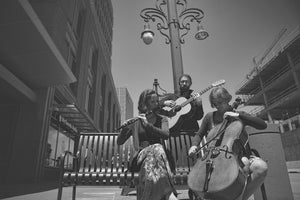 New Time Ensemble
Formed in Ireland while its members studied at the University of Limerick, NTE emerged from a shared passion for animating Irish tunes in delicate new ways.
buy the album
Praise for The Irish Cello Book
"A thorough, well thought-out overview... This is much more than a tune book: Liz both explains and shows very clearly how to adapt the melodies and stylistic elements to the cello. This is a great book for any cellist who wants to become proficient in playing Irish tunes!"

Natalie Haas
I wish that there were more books like this for the cello! By connecting its comprehensive content to the real world outside of its covers, this book will soon be seen as the definitive classic for cellists looking to play Irish music in an authentic and meaningful way.

Mike Block
"The Irish Cello Book and CD does the impossible: while explaining the technical aspects of Irish music it also escorts the reader into a community of established players where the expressive, feeling part of this important music is most alive."

Eugene Friesen
"A tremendous amount of research has been put into this book and I highly recommend it to anyone who wants to know the inner workings of playing Irish traditional tunes with detail given to ornaments, bowings, variations, rhythm, and regional styles."

Abby Newton
"The Irish Cello Book... includes an incredible wealth of information, both in the text and on the accompanying CD, about how to make the large number of tunes really sound Irish, using bowing, grace notes and variations. I can't wait to share this with my students!"

Renata Bratt
"This is exactly what I needed to move me on with my intermediate playing of folk tunes. So often reduced to reading treble clef fiddle pieces, this has transformed my experience. This is such an intelligent book which works at so many levels. A great contribution. My teacher loves it too and we play some of the variations as duets."

Mike Calvert